Welcome, I'm glad you stopped by. I hope in the next 31 days you will find hope. A reason to hope. A reason for hope. And Someone to hope in.
Today is Day 11 of 31 Days of Hope. To see the previous posts in this series click
here
.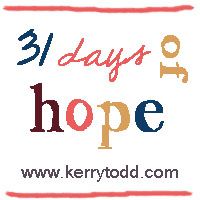 Yesterday we talked about this woman. This woman and her desire to be close to the holy.
One day when Elisha came, he went up to his room and lay down there. He said to his servant Gehazi, "Call the Shunammite." So he called her, and she stood before him. Elisha said to him, "Tell her, 'You have gone to all this trouble for us. Now what can be done for you? Can we speak on your behalf to the king or the commander of the army?'" She replied, "I have a home among my own people." "What can be done for her?" Elisha asked. Gehazi said, "Well, she has no son and her husband is old." Then Elisha said, "Call her." So he called her, and she stood in the doorway. "About this time next year," Elisha said, "you will hold a son in your arms." "No, my lord," she objected. "Don't mislead your servant, O man of God!" 2 Kings 4:11-16
Elisha wants to bless the woman for her kindness. He asks her what he can do for her. She doesn't ask for anything. She is content, probably because she is well-to-do.
Elisha finds out that she has no children and he tells her she will have a son. You can tell she is a woman who has hoped because she begs him to not mislead her. She has felt the sting of being mislead before. Perhaps by another prophet, perhaps by her own body. Nonetheless, she has been here before. And here is painful.
Hope is sometimes painful. It can be both life-giving and gut-wrenching. She's felt the latter. She is familiar with it. But this time is different. This time, I believe, she is being rewarded for her desire to be close to holiness.
I've been here before too. I've dared to hope and then been let down. We all have been here before. It's a painful place to be. It takes courage to stand up and dare to hope again. This woman had probably lost hope. Perhaps she had given up. Then she saw something and she made room for it in her life. She saw holiness and she wanted to be near it. And she was rewarded for her desire.
I want holiness. I want God in my life. Everywhere. But I don't want it for the reward. I want it because without Him, this life is worthless. This life- this little speck- means nothing. I need to make room for Him and I need to remember that He will meet me in the place of my need. He will meet me in the place of my deepest desire. He will meet me there. He will meet me here.